UNMANNED GROUND VEHICLE PLATFORM DEVELOPMENT
Amtech Aeronautical has a proven experience in the modification and conversion of several vehicle platforms to a controllable remotely operated vehicle in conjunction with DRDC Suffield including a six wheeled skid steer all-terrain vehicle, a hydraulically actuated bobcat excavator, as well as several other specially designed test platforms. Amtech can also provide custom software development and troubleshooting for the integration of various other system components including navigation, audio/video transmission, custom sensors, vision processing and tracking, driving remotely, autonomous operation as well as any special function unique to the platform being controlled. Recently Amtech has been working with DRDC Suffield to develop and test a common command and control system that would allow for the control and monitoring of various both commercially available and custom developed platforms using a single ground control station.

Amtech has been intimately involved with the development of a custom control station that allows for the control and monitoring of multiple vehicles and platforms by a single operation. Autonomous operation based on GPS coordinates can also be sent to the platform to allow for unattended operation.
Amtech has been involved in all aspects of the development of unmanned systems including custom embedded hardware and software development to the mechanical/electrical installation of motors and actuators to allow for remote operation.
Some of our more recent projects include the following:
---
GENERIC ROBOTIC CONTROLLER BOARD (GRC)

Amtech was involved in the development, procurement and assembly of the robotic controller boards to be used as a generic controller board capable of operating the various robotic platforms used at DRDC Suffield. The board featured multiple interface ports including CAN and serial as well as being capable of driving high current outputs.
---
BOBCAT EXCAVATOR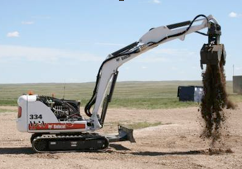 Amtech was involved in the conversion of a stock Bobcat excavator into a tele operated robotic platform to be used as a demining test platform. The project involved the conversion of the hydraulics to be electronically actuated as well as the addition of numerous sensors and actuators to allow for remote operation.
---
MICROHYDRAULIC TOOLKIT ROBOT PLATFORM (MHT)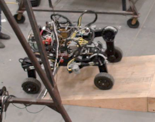 This work initially involved the development of a custom MPC565 based embedded controller and daughterboard to run control code developed in Matlab Simulink on the robotic four legged platform. Follow on work for the project was the investigation of novel behavioural control algorithms on the MHT platform running in both simulation and the real work as well as the addition of a vision system to allow for the tracking of objects while maintaining a stable pose and track.
---
MULTI AGENT TACTICAL SENTRY (MATS) / GROUND CONTROL STATION DEVELOPMENT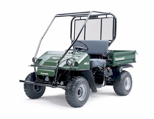 Amtech has been involved in the development and programming of a new Ground Control Station capable of adjusting itself to the various robotic platforms that can be tele operated or autonomously controlled by an operator. The system is capable of multiple vehicle control and brings back a variety of information based on the sensors and capabilities of the vehicles being actively controlled.
---
nSCORPION EXPLOSIVE ORDINANCE ROBOTIC PLATFORM DEVELOPMENT
Amtech has been involved in the repair and development of additional functionality and capabilities for an Explosive Ordinance (EOD) robotic platform to improve its search and rescue capabilities using a LIDAR sensor as well as to provide a stable platform for various research to be conducted on. Control is done remotely through a ground control station that provides the operator with video / audio feedback as well as control and feedback of the various joints and drive actuators.
For more information of any of these projects please contact us at (403) 529-2350 in Medicine Hat Alberta.