Aerosol Analysis Technologies
Amtech Military and Automation Systems Division has recently acquired the Chemical Biological Radiological and Nuclear (CBRN) technologies and products of Dycor Technologies Limited. Amtech continue to fully support these specialized products and technologies. Please contact us if you have any questions as we update our website to include these new products and technologies.
Aerosol Monitoring and Analysis: Understanding the Airborne Environment
Aerosol monitoring and analysis – whether indoors or outdoors – is a crucial part of understanding the impact that airborne particles have on our lives. Understanding and mapping what is normal for any place at any given time is the basis for spotting and analyzing abnormal events. Whether these events are natural disease outbreaks, chemical or pollutant releases, or deliberate acts of terror or aggression, the ability to detect and sample airborne particles is a crucial first step to developing and deploying a strategic response.
Solutions and Applications for Real-World Problems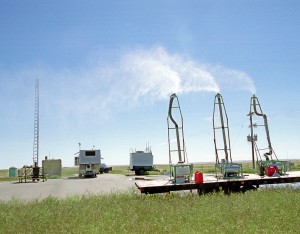 At AMAS, we understand the behavior and characteristics of aerosolized particles. We have developed and refined our detection and collection equipment – and how to use them most effectively – through an ongoing collaborative process with our clients over the past two decades. We work with the world's best researchers, with security and military responders in operational conditions, and with public health practitioners on the international stage.
From protecting athletes and world leaders at international events, developing customized integrated biodefense systems for military platforms, and providing tools and expertise to those on the front lines against Avian Influenza, SARS, and other pandemic outbreaks, AMAS's aerosol monitoring and analysis solutions are known for taking the best of research and technology from the laboratory out into the real world. Whether you need a way to track and capture an airborne viral outbreak, a chamber to test aerosol particle clouds, or an integrated system for military reconnaissance missions – talk to us. We've been there, we have the tools, and we can help.
Please click on any of the following links for more detail on the solutions that we can provide.