DEFENCE R&D / ENGINEERING SERVICES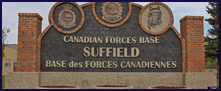 Amtech Aeronautical provides engineering services for defence R&D and systems development in the areas of military engineering, explosive physics, autonomous vehicle systems and chemical/biological protection. As a prime contractor to Defence Research and Development Canada Suffield (DRDC Suffield), we have been an essential part of their defence R&D programs since 1995. The close proximity of the Amtech Medicine Hat operations to DRDC Suffield enables us to respond quickly to their specific on-site project needs. Amtech regularly provides engineering and technical services to DRDC Suffield in support of a variety of research, test and evaluation activities on the Experimental Proving Grounds (EPG) at DRDC Suffield. We have also completed contract R&D work for the US Department of Defense and the UK Ministry of Defence.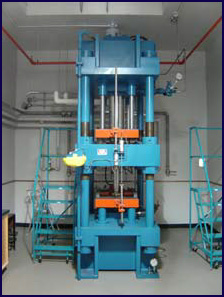 Amtech has a well-proven expertise in conducting complex and multi-disciplinary defence projects involving R&D, design, prototyping, commissioning, field trials and field support activities for the military research community. In the area of Military Engineering, Amtech has designed, constructed, commissioned and operated a number of specialized blast-resistant test facilities for investigating the effects of shock and blast due to conventional and novel explosives on structures, vehicles and personnel both on land and under water. Amtech has also designed, installed and commissioned instrumentation and control systems for the remote mixing and processing of explosives from a safe location. We also have a multi-year contract for prototyping installations of counter IED equipment on a military pattern vehicle for test and evaluation purposes. In addition, we have developed a range of inert RFID surrogate landmines for use in mine detection and neutralization programs, including the training of humanitarian deminers.
Our work in the area of Autonomous Vehicles research encompasses all aspects of remote vehicle operation including the design and development of processing hardware and proprietary software, embedded systems, RF communications including video, ground stations, vehicle controls, vehicle stability, multi-vehicle systems, control actuators and feedback sensors. Amtech's experience includes both conventional wheeled vehicles and multi-legged robots with novel locomotion schemes for navigating complex terrain. In addition, Amtech has designed and built a portable engine test cell with a 200 hp dynamometer for evaluating internal combustion engines for autonomous vehicles.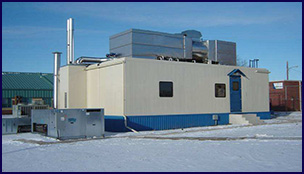 In the chemical/biological (CB) protection domain, Amtech was the prime contractor and an industrial partner for the design and construction of a climate-controlled wind tunnel for testing full-size CB personal protective suits against simulated CB challenges. This environmental chamber offers a broad range of temperature, humidity, wind and CB simulant concentrations for scenario testing. The facility design incorporates features that are specific to the testing protocols for CB protective equipment. In addition, Amtech also operates this facility under the direction of DRDC Suffield scientists and engineers to conduct experiments to quantify the protective capabilities of CB suits. We have also designed a vapour dispersal system for CB simulants and commissioned an analyzer for small-scale testing of candidate materials for CB protective suits.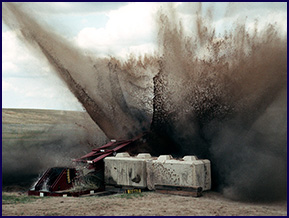 The Suffield EPG has traditionally been used by the Canadian Department of National Defence and by defence contractors to develop defence technologies and to test products. The R&D, test and evaluation facilities at Suffield are world-class facilities that are commercially available. Amtech offers a full range of project management, engineering and technical services to qualified organizations wishing to use the Suffield EPG including a full-service "turn-key" option.

Amtech can provide expertise on a wide variety of autonomous and tele-operated vehicles and industrial applications. Amtech has been intimately involved with the modification and conversion of several vehicle platforms to a controllable remotely operated vehicle including a six wheeled skid steer all-terrain vehicle, a hydraulically actuated bobcat excavator, as well as several other specially designed test platforms. Amtech can also provide custom software development and troubleshooting for the integration of various other system components including navigation, audio/video transmission, custom sensors, vision processing and tracking, driving remotely, autonomous operation as well as any special function unique to the platform being controlled.